Mechanical Processing of Metals and Ceramics
Mechanical Processing of Metals and Ceramics
Mechanical Processing
We have been providing sputtering targets and tablets made from a wide variety of materials, and frequently treating even brittle materials which are very difficult to process mechanically.
In our mechanical processing line, we are equipped with various processing machines so as to be prepared for mechanical processing into every kind of shape.
Based on our experience in fabrication of sputtering targets, we can perform mechanical processing of various alloys and ceramics. We will accept your request for fabricating sputtering targets and so on.
We can also perform processing into a plate-, bar- or wire- shape, in combination with contract melting and contract sintering.
Main machines
Wire Electrical Discharge Machine
In this machine, discharge is generated between a thin wire and a material to be processed and, by using thereby generated heat, the material is melted and cut.
This machine is provided with high performance CNC and digital servo technology, and thereby enables high-speed and high-precision processing.
Further, it is equipped with an automatic wire connection unit, thereby enabling unattended operation. However, this machine can only cut conductive materials.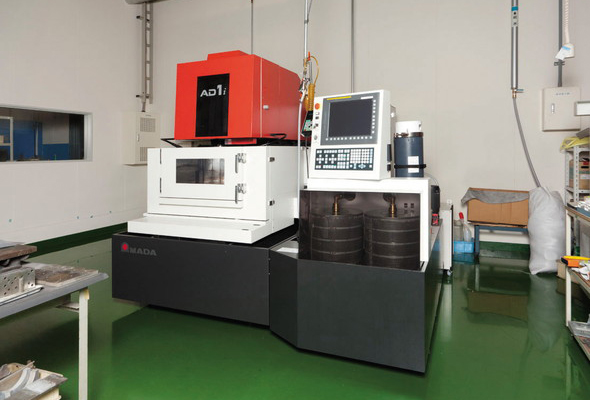 General-purpose Conventional Precise Lathe
This is the most popular processing machine among shaping machines for cut products.
Our expert engineers closely analyze various factors such as mach inability and work-limiting factors, and thereby construct optimum processing conditions. They perform also optimization of cutting tools, if required, and thereby enable cutting of materials difficult to cut and so on.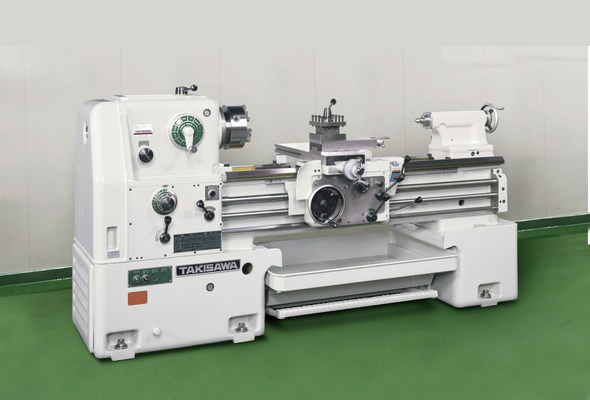 CNC Grinding Machine
Grinding machines are machines for fine-grinding a surface of a workpiece by a whetstone contacting to the workpiece while rotating at high speed. Grinding of a plane or a mold has been considered, until recently, to be a work requiring proficiency.
The CNC (Computerized Numerical Control) grinding machine automatically generates optimum grinding and dressing conditions in response to input of a particle size of the whetstone, and can perform a wide range of grinding from flat grinding to complex grinding.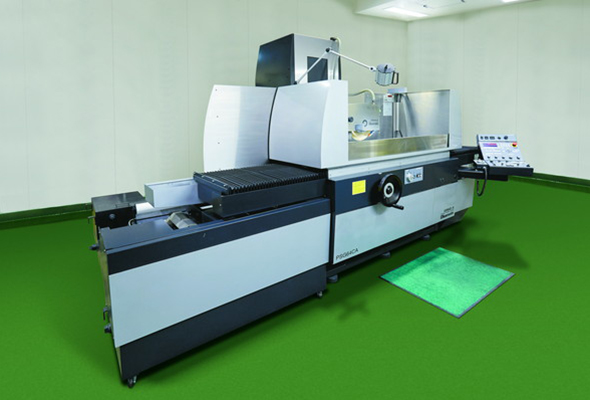 Precise Slicing Machine
This processing machine is a slicing machine for precise processing of brittle materials, metal materials and so on.
The machine is provided with a large-size chuck table and a Y-axis beam with a double-column structure which supports the spindle, and thereby can perform powerful and stable processing of large-size products.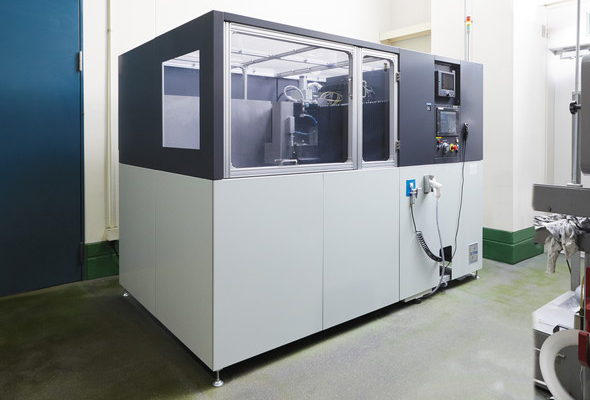 Vertical Spindle Rotary Surface Grinding Machine
This processing machine employs a large-diameter thrust roller bearing for the table to be the origin of high precision, and thereby enables amazing high precision.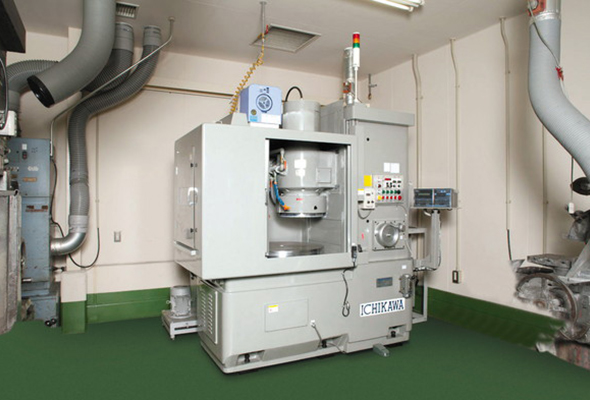 Related apparatuses
Rotary grinding machine
Cylindrical grinding machine
Roller
various Cutting machine
Milling machine
Stamp mill
Brown crusher
Ball mill
Gas atomizer
Planetary ball mill
Fluidized-bed granulator dryer