What's
High-purity Metals?
We have been providing high-purity metal and metal-alloy materials having purity of 99.9 % or higher, and also can produce multi-component alloys such as ternary and quaternary ones, using our experience and technology of high-purity sputtering targets.
The high-purity metal products can be provided in various forms, in accordance with your needs, such as of submicron size powder, spherical atomized powder and ingot.
Further, as we can deal with production of alloys of a special kind of metals, such as alkali metal-base alloys, using atmosphere melting technology, please consult with us about it.
High-purity Metal Elements
High-purity Metal Elements
We have been providing high-purity As and P granular products for the use as ion implantation sources. These products have been adopted in a large number of semiconductor manufacturers.
Magnesium chips, sticks and so on
In ion implantation, Mg is used as a source for the purpose of reversing the polarity of dopants. We can provide such Mg source materials in various sizes.
Metal shots
Please consult with us also about processing of various alloys into a shot shape.
Various alloys
Without limiting to popular alloys such as Ni and Fe, we have been working also on production of highly active alloys based on alkali metals or alkaline earth metals.
We can provide alloys, intermetallic compounds and the like of Na and Li, which are metals difficult to handle. They can be provided in various compositions, powder form and so on.
Powder products
We provide powders which have features such as low oxygen content, high purity, uniform dispersion and high fluidity and are optimum also as source materials for bulk alloy (sintered alloy) production and thermal spraying. We can meet a wide variety of requests for powders ranging from fine powder to that with a few hundred micron particle size.
Atomized powder
This type of powder is produced by atomization, which is a method of producing powder directly from molten metal without grinding a solid of the metal. As they are solidified by rapid cooling, they have features of round shape and low segregation. We have been employing a production method using gas atomizing.
The apparatus used is the one which sprays by gas pressure a metal melted by vacuum induction heating, thereby producing powder of the metal.
Metals with a melting point up to 1500℃ can be melted.
10 kg (in terms of iron) of metal can be powdered.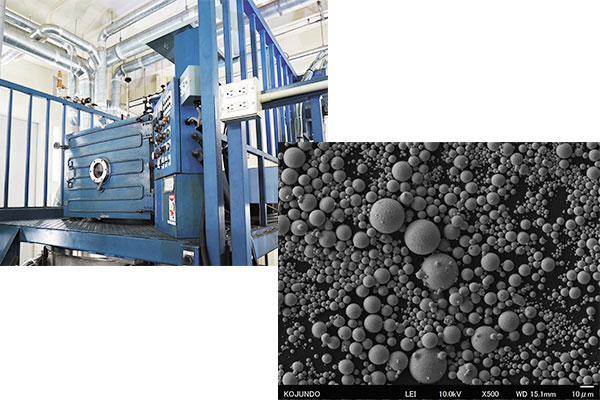 Features
Metals are melted in vacuum by electromagnetic induction heating.
Because of the use of induction heating, melted metals are mixed and become uniform in composition.
Because of the spraying with applied inert gas, active powder can be produced.
| | |
| --- | --- |
| Major products | Ag-based and Ti-based brazing materials and the like, CIG and the like |
Wires, Sheets and Rods
We line up wires, sheets and rods of various metals. As we can produce them in a special shape or from an alloy, please consult with us about it.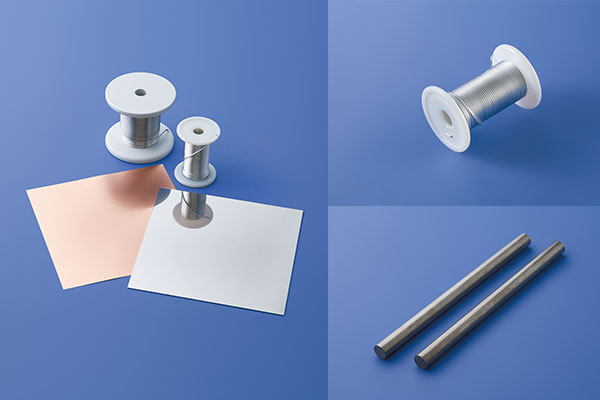 Source Materials for PVD
We can provide them in various sizes and can meet your request in terms of purity, gas content and crystal grains, and also can accept an order for fabricating a backing plate, for bonding or for producing a peripheral component of a PVD system.
sputtering targets
backing plates
materials for laser ablation
materials for EB