What's Metal alkoxides?
Salts of metals with alcohols such as Sr(O-i-C3H7)2, Ti(O-i-C3H7)4 and Nb(OC2H5)5 are collectively referred to as alkoxides. Alkoxides are a group of substances each obtained by replacing the hydroxyl group (-OH) of the corresponding metal hydroxide by an alkoxyl group (-CH3, - OC2H5, -OC3H7, etc.). They generally have properties of being soluble in organic solvents and being easy to hydrolyze. Exploiting the properties, alkoxides are used for synthesizing an oxide having characteristics different from that of the oxide synthesized in liquid phase. As hydrolysis of alkoxides in an organic solvent can be performed under a low ion concentration, it easily generates sol, and the sol transforms into gel when it is left long, heated or vibrated. Accordingly, alkoxides are used for the so-called sol-gel method, which is a method for synthesizing a uniform complex oxide, producing spherical oxide powder and so on. Alkoxides having high volatility are used also for a CVD method and so on.
Metal alkoxides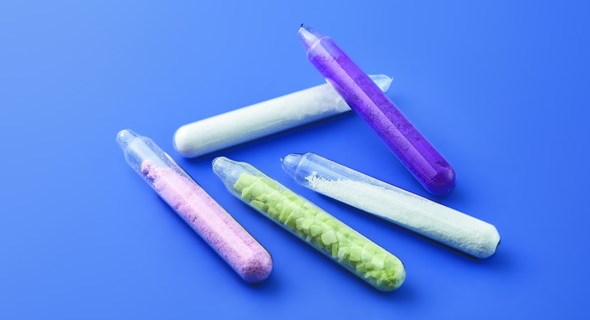 (examples)
Ta(OC2H5)5
Ti(O-i-C3H7)4
Hf(O-t-C4H9)4
Al(O-sec-C4H9)3
Ba(OC2H5)2
LiOC2H5
Lanthagen®
Recently, alkoxides of lanthanides such as La have attracted attention as source materials for asymmetric synthesis catalysts. Among them, our lanthanide alkoxides have been highly valued in catalytic activity by a number of customers. We have developed a catalytic activity evaluation method for lanthanide alkoxides (patent granted), which evaluates activity of asymmetric synthesis catalysts, have been performing the evaluation on each product lot and providing acceptable products under the name of Lanthagen®.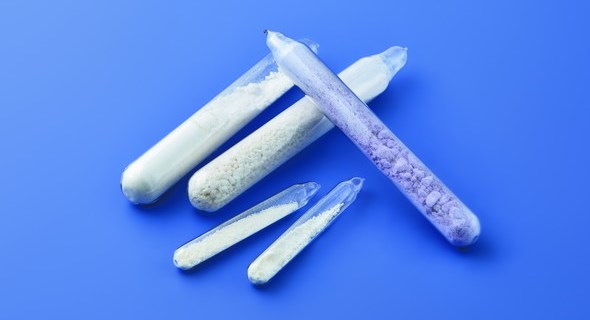 Outline of the catalytic activity evaluation method
A catalytic activity evaluation value is expressed by the reaction rate and asymmetric yield in asymmetric epoxidation reaction of chalcone using a Ln-BINOL catalyst prepared from a lanthanide alkoxide and BINOL ((S)-2,2′-dihydroxy-1,1′-binaphthyl).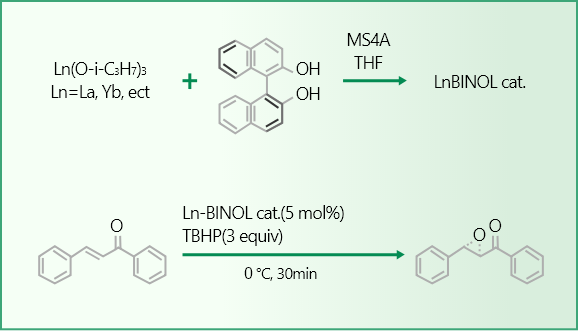 Line-up of lanthanide alkoxides for catalysts
※You can scroll and see
Code No.
LAR04GB
PRR02GB
SMR02GB
GDR02GB
YBR02GB
YYR04GB
Chemical formula
La(O-i-C3H7)3
Pr(O-i-C3H7)3
Sm(O-i-C3H7)3
Gd(O-i-C3H7)3
Yb(O-i-C3H7)3
Y(O-i-C3H7)3
Name
Lanthanum
tri-isopropoxide
Praseodymium
tri-isopropoxide
Samarium
tri-isopropoxide
Gadolinium
tri-isopropoxide
Ytterbium
tri-isopropoxide
Yttrium
tri-isopropoxide
CAS No.
19446-52-7
19236-14-7
3504-40-3
14532-05-9
6742-69-4
2172-12-5
Formula weight
316.2
318.2
327.6
334.5
350.3
266.2
Appearance
White solid
Light green solid
Yellow-orange solid
White solid
White solid
White solid
In addition to the products mentioned above, we have been providing acetates, carboxylates, β-diketone complexes and so on.