We have material synthesis technologies mainly focused on inorganic materials, resultantly pulverization technologies for controlling forms of the grains and particles do result in, as well focused on metal-organic compounds, resultantly distillation technologies for increasing those purities do result in.
In order to provide our customers with materials satisfying their needs, we will combine the above-described technologies to produce optimally-customized materials.
Inorganic Synthesis Technology
We have developed and fabricated a wide variety of inorganic compounds for many years. We have expertise in conventional solid phase reaction processes, wet reaction processes performed in a solvent and so on. Further, we are able to treat highly active substances, which easily react with moisture and oxygen in the air, in an inert atmosphere without causing their resolution.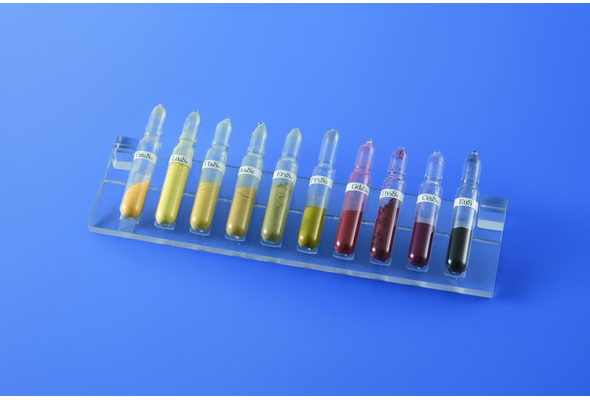 Complex oxides are one kind of fine ceramics materials, which are fabricated with a precisely adjusted chemical composition and under well-controlled firing conditions, and they exhibit characteristics specific to respective ones. We have had experienced in fabricating powders of high dielectric constant materials such as BST and PZT and complex oxides applicable as materials for lithium-base batteries. We will accept your consulting with us about provision of products with uniform doping performed by solid-phase or liquid-phase method. We have abundantly experienced also in inorganic synthesis using reaction gases such as H2S and H2.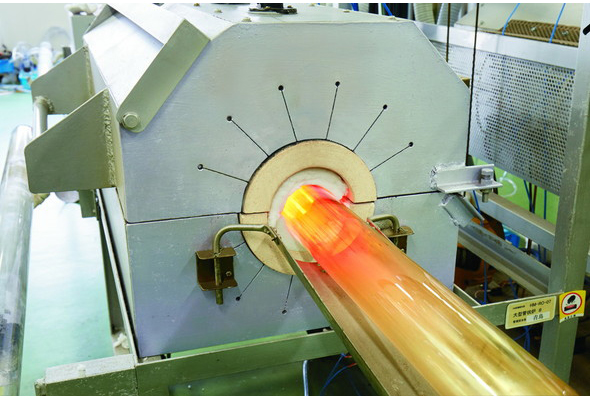 tubular electric furnace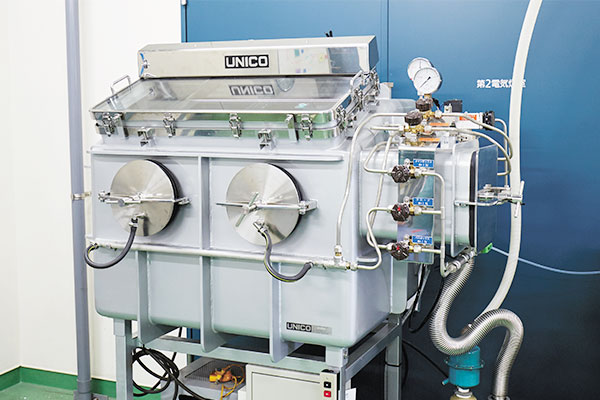 vacuum glove box
major inorganic reactions
※You can scroll and see
| type | outline | reactions we are well-skilled in, instruments we use |
| --- | --- | --- |
| wet reaction | Synthesis method in water or organic solvent. A desired object is obtained by mainly dissolving salts in a solvent, heating the solution to cause reaction, removing the solvent and byproducts and drying the left substance. | Precipitation reaction, Co-precipitation reaction, Oxidation-reduction reaction, Recrystallization purification, Small amount element doping, Bottom-up synthesis, Ion exchange |
| solid-phase reaction | Reaction between solids. Mainly, raw materials are weighed, mixed together, and then heated to cause reaction. As well as atmospheric firing, synthesis in a variety of gases (Ar, N2, NH3, H2S, CO2 etc.) is also possible. | Formation of metal halides, Nitriding/hydrogenation/sulfurization reactions, Synthesis of complex oxides, Doping, Diffusion, Sealed tube reaction, Solid phase-solid phase reaction, Solid phase-gas phase reaction |
| treatment of active substances | Synthesis, pulverization and packing of active substances using airtight apparatuses are possible. | Alloying of alkali metals, Treatment of active hydrides and nitrides |
Related instruments
SiC (Silicon Carbide) electric furnace
Open air furnace
Wet reaction vessel
Rotary kiln
Pulverization technology
In addition to simple pulverization, we perform also particle size adjustment, evaluation of powders and so on.
We can further perform a mechanical alloying method in which powders are made to collide with each other and thereby made to react with each other.
Pulverization by Ball Mill etc.
Pulverization is performed by friction and impact.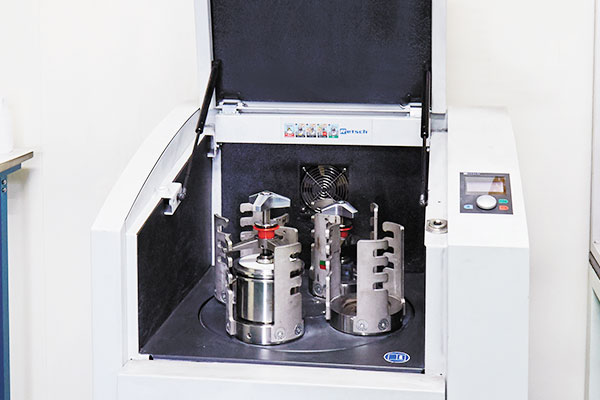 planetary ball mill
X-ray diffraction chart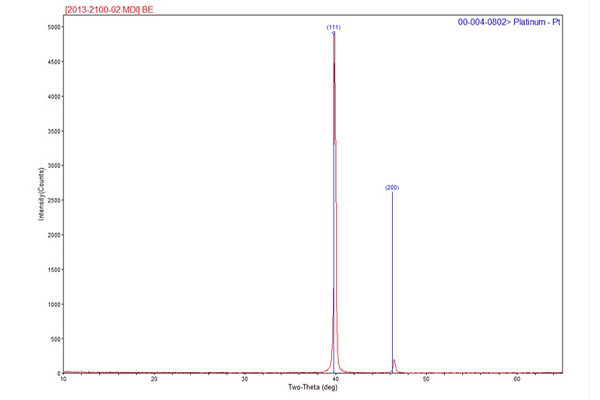 Synthesis of Bi2Te3 by a mechanical
Granulation
Granulation is a process for processing powder raw materials into a granular form of uniform size.
It is performed for improving handleability, moldability and sinterablity.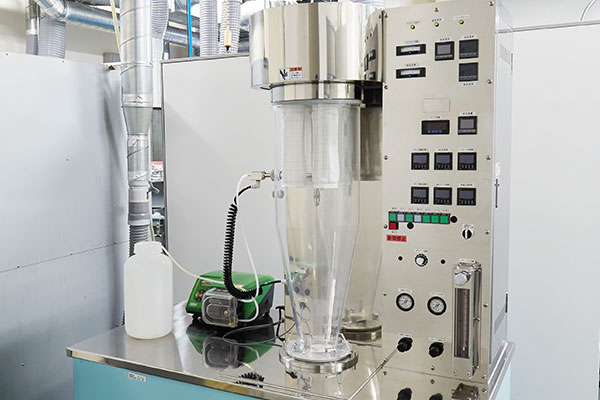 fluidized bed granulator
Atomization
Molten metal is atomized by high pressure gas and thereby processed into powders. Using inert gas, high-quality spherical powders with little surface oxidation can be produced.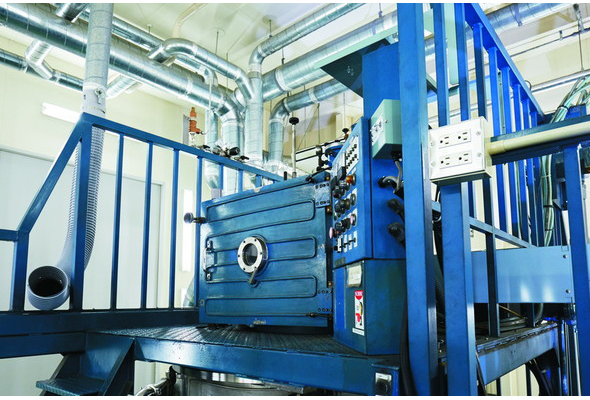 gas atomizer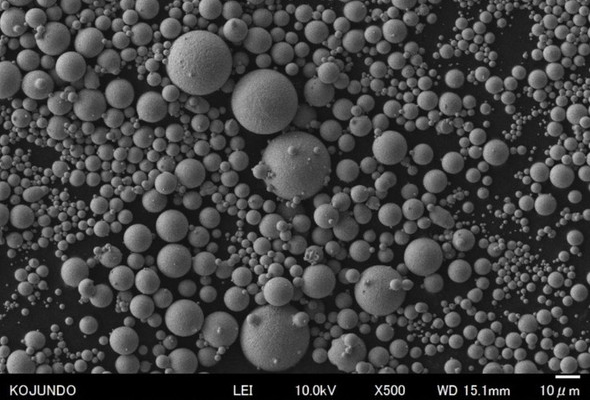 example of atomized powder
related instruments
stamp mill
Brown pulverizer
ball mill
vacuum glove box
Organic Synthesis Technology
We have synthesis technology of anhydrous metal salts, and accordingly can synthesize organic complexes of a variety of metals using anhydrous salts as sources.
In particular, we have expertise in their synthesis in an inert gas atmosphere, and accordingly can synthesize metal alkoxides, metal amides, metallocene and so on, which are unstable in the air.
By using our synthesis technology focused on metal materials and their organic compounds, along with our purification technology, we can accept requests of production in scales ranging from laboratory use to mass production.
Major examples of organic synthesis reactions
(M=Ti, Zr, Hf, Nb, Ta, rare earths, alkaline earth metals etc.)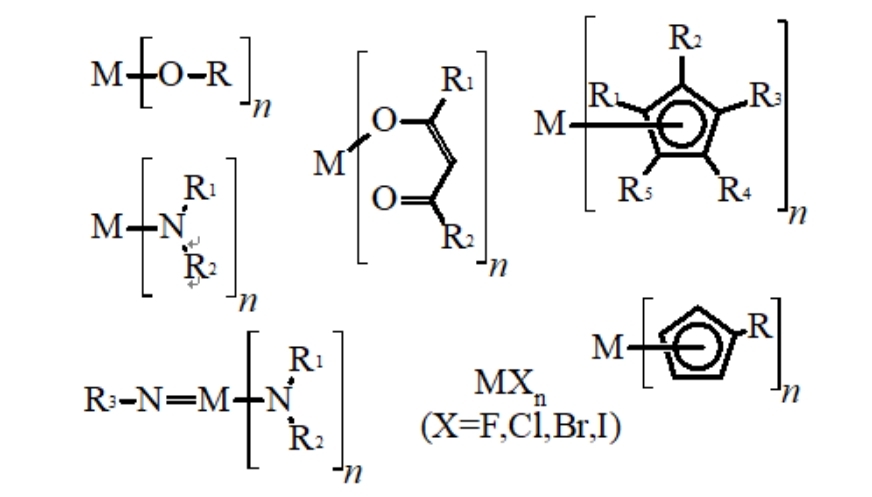 Major examples of organic synthesis reactions
※You can scroll and see
| process | outline | processes we are well-skilled in, instruments we use |
| --- | --- | --- |
| organic synthesis | Synthesis in organic solvent. We accept your consulting with us about use of high quality raw materials, purification of synthesized substances. | Alkoxide synthesis, Amino compound synthesis, Reactions using alkyl lithium or β-diketonate, Grignard reaction, Synthesis of various organic acid salts, Synthesis of MOD coating materials |
| distillation/purification | We have abundant of experiences in purification by distillation and sublimation purification methods and so on. | Distillation/purification of alkoxides and amino compounds |
| test manufacture of materials | In addition to synthesis, we have been conducting test manufacture of various kinds of materials and collaborative research. | Material synthesis, thin film fabrication, composite materials etc. by sol-gel method |
Distillation/purification Technology
We provide high-purity products by employing our distillation/purification technology in an inert gas atmosphere.
Kojundo's factory is equipped with distillation/purification facilities capable of being operated in an inert gas atmosphere or in vacuum with scales ranging from grams to tons.
We also have know-how of analysis technology for guaranteeing the purity of our high-purity products and of packing technology indispensable for providing our customers with the products with their purities being maintained.
We can produce and provide high-purity reagents in accordance with our customers' needs by mainly distillation of metalorganic chemical substances which are unstable in the air.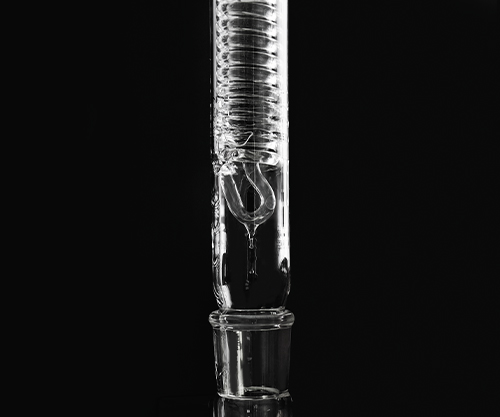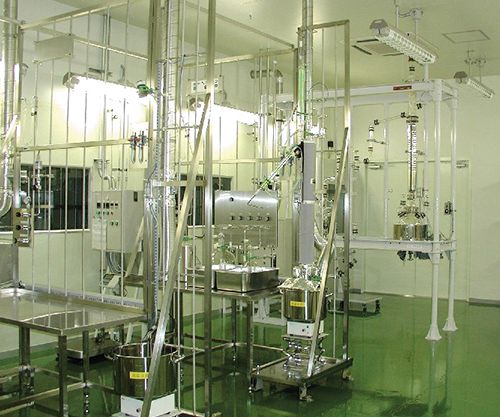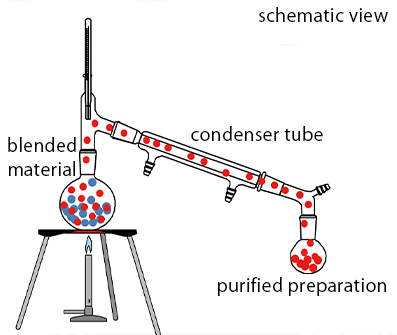 Related instruments
distillation system made of SUS
sublimation system made of glass
distillation system made of glass
automatic packing system